A Speaker on Race and Representation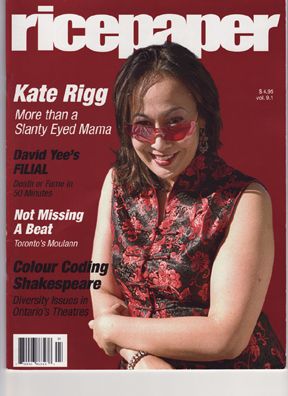 Kate Rigg has been making cultural activism and outreach programs continuously as part of her career in the arts. While working as a playwright and performer, she has been conducting workshops and masterclasses, talk back sessions, speeches to conference goers and served as a panelist on multiculturalism in America. She recently was recognized by the governor of New York State for her activism and was made part of the Time's Up Global Leadership Board which advocates for safety and equity in the work place and women's rights around the world. She is a frequent host of events serving the greater good and has lent her time and talent as a writer/producer and performer to organizations such as the ACLU (she wrote the Voting Rights Special "Sing Out for Freedom which aired on election eve 2020), the OTRFF (she is a new festival executive director for the nation's first diversity film festival led by the disability community), as a brand consultant to the Immigration Justice Project and a volunteer for many organizations like CAAPA (Coalition for Asian American Pacific Islander Associations) and AABANY (Asian American Bar Association of New York.)
Work with Students
Her work with kids of color and college students associated with multicultural student organizations has both provided an academic forum to discuss the nature of race in America from the Asian American/mixed race point of view, and a lab for participants to use the tools of writing, language and acting techniques to expand their own cultural vocabulary. In group discussions, writing classes, comedy technique intensives, tutorials on politics in the arts, acting workshops, spoken word labs, performance theory classes, lessons on improvisation in writing and performance, and monologue labs, students have explored their relationships to cultural theory. What distinguishes these workshops is that the content is informed by Kate's experience as a classically trained writer/actor layered over extensive travels visiting Asian American communities from coast to coast as an actor, a writer, a spoken word artist and a comedian. Interactions with Amerasians in Maine inform workshops with Mixed Race students in Virginia and so on. As a playwright this exchange of information is essential and is one of the templates used in the creation of new plays.
Other Communities
Host/performer at The New York Gay Pride Rally, L.A. Latino film fest panelist on race and representation, host of the A/PI Heritage Fest in Union Square Park NYC, Speaker/performer at Youth Solidarity Summer (NY South Asian Youth organization), host Heritage of Pride Community Awards, host/producer A/PI heritage month fundraiser for Coalition for Asian Children and Famillies, workshops on poetry and writing at the Anchorage youth correctional facility, community arts workshops through MACLA in San Jose and Con Works in Seattle, NYFA audience exchange program with City As School (at risk high school kids) teaching writing and spoken word, Media Boot Camp masterclass. In 2007 resident playwright with Center Theater Group's PLAY program reaching out to inner city high school kids in Los Angeles writing about contemporary issues particularly relating to media, food body image and branding of foods in America. The work in these projects focuses on self esteem, raising awareness and exploring where race and sexuality intersect in the socio-political identity of the individual in America. She has also been part of panels on women in the media, women in performance and multiculturalism in the arts.
Partial List of Events
Syracuse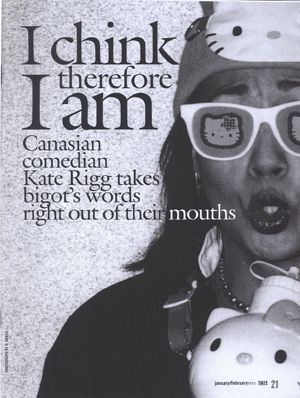 University (Matrilineage conference keynote performance/speaker), Colby University (Multicultural Awareness Week), UNC Chapel Hill (Women's Week Celebration), Sonoma State Diversity Week, National Women in Performance Conference Toronto (speaking on diversity in the arts and how schools can program more diverse speakers), UCSB Multicultural Week, Sarah Lawrence, Portland High School (writing workshop with kids), Asian American Recovery Services San Jose (keynote speaker for bay Area Asian high school and middle school girls), UMASS June Jordan Conference speaker on feminism and race, NYU 30th Anniversary of Maxine Hong Kingston's Woman Warrior presenting on cultural alienation in young Asian Americans, The Door NYC a center for at risk kids, Asian Women's Giving Circle keynote speaker andgrantee.

A/PI Heritage month celebrations/Partial List
Wellesley College, Mt Holyoke College, Swarthmore College, Smith College (including performance and theory workshop), Eastern Conference of Asian American Student Associations (featured speaker/performer), Penn State (Conference on Sweatshop Labor in third world countries, featured performer/speaker), NYU, Columbia University, Elizabethtown College's Multicultural Heritage Week, Smithsonian Institute, City of New York.