"

Provocative Comedy with a poetry slam hip-hop edge."
— LA Times
"

A star on the Manhattan Comedy Scene"
— TIME Magazine
"

Funny and Ferociously Energetic. At full throttle she's an urban machine."
— San Francisco Chronicle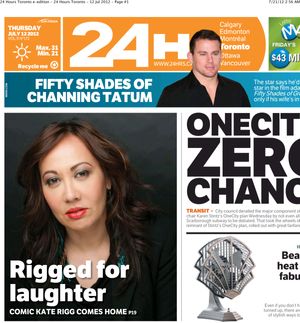 A notorious culture and subculture vulture, the allure of the club scene in New York drew Kate to Caroline's Comedy Club on Broadway.  She soon made a series of appearances and featured spots showcasing her particular combo of character based comedy, edgy socio-political commentary, Asian-American slanted jokes, and in-ya-face dirty girl talk. From there she developed edgy, musical one person shows which have toured internationally, introduced her to audiences at Montreal Just For Laughs Festival, the Smithsonian Institute, The Comedy Central Theater and many venues and festivals around the world.
Her first comedy and music revue for NBC's PSNBC in New York, and the HBO Time Warner workspace in Los Angeles was "Kate's Chink-O-Rama: featuring the Chinkorama dancers". It  was a New York city pick of the week at Joe's Pub at the Public Theater, and  toured extensively to comedy venues around North America. Her follow up show "Birth of a nASIAN" --a collection of characters, stand up and trip hop spoken word, was part of the Mark Taper Forum's Summerfest, was developed at La Mama ETC in New York, then toured to MACLA in San Jose, and New World Theater in Massachussets, the Vancouver Comedy Festival, Women in Theater Conference Toronto, ConWorks Seattle, OutNorth Alaska, MACLA, CCE Portland and to sellout crowds at the Comedy Central Theater in Los Angeles and later  invited to perform the show at the Smithsonian Insitute in DC.  Her comedy and music extravaganza  "Happy Lucky Golden Tofu Panda Dragon Good Time Fun Fun Show" premiered at La Mama ETC. in New York, played to sold out houses at the New York International Fringe Festival, traveled to the Edinburgh Fringe, and  was shot as a film special by director Carrie Preston which won the best feature award at the Broad Comedy Film Festival in Los Angeles.
Kate's stand-up career has taken her from coast to coast with her edgy off the wall takes on pop culture, politics and multiculturalism, her brash represent-asian, and her ability to talk to almost anyone about anything. She is also the proffessor emerita of the first LGBTQ+ comedy class at the prestigious Manhattan Comedy School.
She starred in and executive produced "The Naughty Show" bad girls of comedy DVD released on Eagle Rock's Comedy Label, and was the co-creator and  executive producer of the hit comedic competition shows "Dance Your Ass Off" on Oxygen TV and "Gonzo GIrlz" on RIPE TV, the Pilot "Tour Dates" on E! and the wacky comedy kids adventure show "Cache Craze" on YTV.
And yes, I CAN WORK CLEAN. ISH.
 
 
SaveSave
Kate's Comedy on TV includes: 

As a comedian Kate has appeared on Showtime's "Hot Tamales", LOGO's " One Night Stand-up", STAR TV, Because I said So, Canada AM, CBC Radio, NPR Pacific Time, Sex TV's Dragon Ladies Special, PBS' Race is the Place, NBC Late Friday, CTV's Comedy Now, Comedy Central's Women In Comedy, Vh1's "Awesomely Bad" Series, Pacific Fusion TV and for three seasons as a regular correspondent on the Dr. Phil Show,  NPR, CBC Radio, Sirius Radio, and was profiled in the PBS film "Race is the Place" Alongside Amiri Baraka and Danny Hoch. She performed several Voices on Fox's Family Guy and her comedy and music film Happy Lucky Golden Tofu Panda Dragon Good Time Fun Fun Show will soon be available on demand,
 
Clubs
Kate has performed at all the major clubs in New York, Los Angeles,  and Toronto including Carolines on Broadway, COMIX, Gotham Comedy Club, Comedy Central Theater, The HBO Time Warner Workspace, Yuk Yuks, Stand Up New York, The Laugh Factory and The Comedy Store. She has been featured alongside comedy luminaries like George Lopez, Dave Chappelle, Lisa Lampanelli, Mo'Nique, Margaret Cho, Lea Delaria, Jim Gaffigan and many others. She can tailor special shows, themes and jokes for colleges, Women, LGBT, all-Asian audiences, conferences, events, and other special interest groups.
 
Hosting and Special Events
In addition to doing stand-up comedy shows Kate has been a dynamic host or MC for many Special Events Nationally. She Was the go-to host for the hit show "Sing-Along-Sound-Of Music" at the Kennedy Center, The Ziegfield Theater and venues around the country, is a regular fundraiser/festival host for many special interest groups and has expertise in women's issues, A/PI Cultural trends, multiculturalism, and youth culture. She has hosted/spoken at events such as NYU's Asian American Center's 30th Anniversary of Maxine Hong Kingston's Woman Warrior, NYC's Pride Rally, The Angel Island Benefit, The Smithsonian Institute's A/PI Heritage Month Series, The National Association of Women In Performance's Conference, Women's Week at UNC Chapel Hill and countless colleges and school events.